Meet the Young CAS PI: Maria Ingrid Teresa Olsson
Meet Maria Ingrid Teresa Olsson, the Young CAS PI for August 2023 to June 2025! Olsson, an associate professor at Inland Norway University of Applied Sciences (INN University), will lead the project 'Towards a New and Culturally Sensitive Understanding of Gender Inequality: Women and Men in Modern (Work) Life.'

Maria Ingrid Teresa Olsson's project aims to address the limitations of current global gender equality indices that focus on a narrow set of domains and are influenced by Western ideals. While these indices are commonly used by politicians, policymakers, and researchers to evaluate the impact of policies and test scientific theories, they do not provide a comprehensive view of the challenges faced by women and men in modern work life across all countries.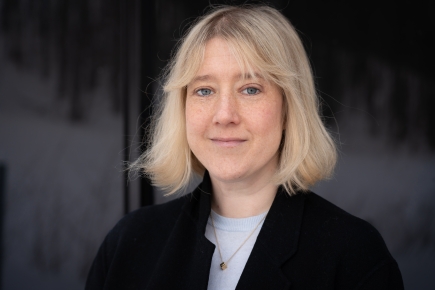 Through her project, Olsson aims to develop a European gender equality index that identifies and addresses the gaps in existing indices, with the aim of promoting new knowledge on gender inequality and challenging established truths on the degree of gender equality in contemporary society. By doing so, she hopes to support the development of more effective policies that can address the challenges faced by women and men in today's workplace.
It's important to note that while many sectors in the economy and areas of life are segregated by gender, gender segregation does not necessarily equate to gender inequality.
Olsson's project is one of two Young CAS projects scheduled to start in August 2023. We spoke with Olsson about her project and her thoughts about having been selected for the Young CAS programme!
Congratulations, Maria! Could you briefly tell us about your Young CAS project?
'Thank you!
My Young CAS project is about how to operationalize gender equality. Gender equality is an important topic worldwide and the goal of many national and international leaders. Existing global gender equality indices, such as the Global Gender Gap Index (GGGI), are frequently used by politicians and policymakers to compare gender equality between countries as well as over time within countries. However, existing gender equality indices do not fully reflect challenges faced by women and men in modern (work) life in all countries and are thus far from ideal tools for use in the tracking of progress (or lack thereof). My Young CAS project seeks to advance understanding of gender equality by (1) critically reviewing existing gender equality indices in light of their utility for scientific and societal progression and (2) operationalizing a new gender equality index that represent challenges faced by both genders in contemporary society. The project will generate a new European gender equality index that can be used to cultivate new gender (in)equality knowledge.'
Please tell us a bit about yourself, your research interests and your career path.
'I was born and raised in Sweden but moved to England in my early twenties to study psychology at the University of Sussex. My goal was to become a clinical psychologist, but I fell head over heels in love with social psychological research as part of my bachelor's and master's degree. In 2016, I thus went on to pursue a PhD in social psychology at UiT the Arctic University of Norway under the supervision of Professor Sarah Martiny. My dissertation was entitled: Causes and Consequences of Gender Roles. As part of my doctoral work, I spearheaded a data collection in 49 countries on gender roles to understand men's underrepresentation in care-oriented roles. After my doctoral studies, I secured a job as an associate professor at the psychology department at Inland Norway University of Applied Sciences. I am currently the leader of the research group OASIS (short for Organisasjon, arbeid, sosialpsykologi i samfunnet). My research interest spans several psychological disciplines, including social-, political -, and cross-cultural psychology. I am particularly interested in how the broader political and sociocultural context influence behavior.'
Why did you apply to the Young CAS programme?
'The Young CAS programme promotes excellent, fundamental, curiosity-driven research. To be able to outline my dream project with my dream team is a unique opportunity for an early career researcher like myself, so I could not stop myself from applying!'
What in particular are you looking forward to as a future Young CAS PI? 
'I am excited about getting an interdisciplinary team together to work on advancing research on gender equality. The Centre for Advance Study provides me and my collaborators with a unique opportunity to focus, and collaborate in close proximity, on a project over a sustained period of time. This seems to me like the best way to conduct research and I cannot wait to get started!'
Published 24 February 2023, 2:18
|
Last edited 23 March 2023, 3:17